Applying Marbling Effects To Your Fishing Rod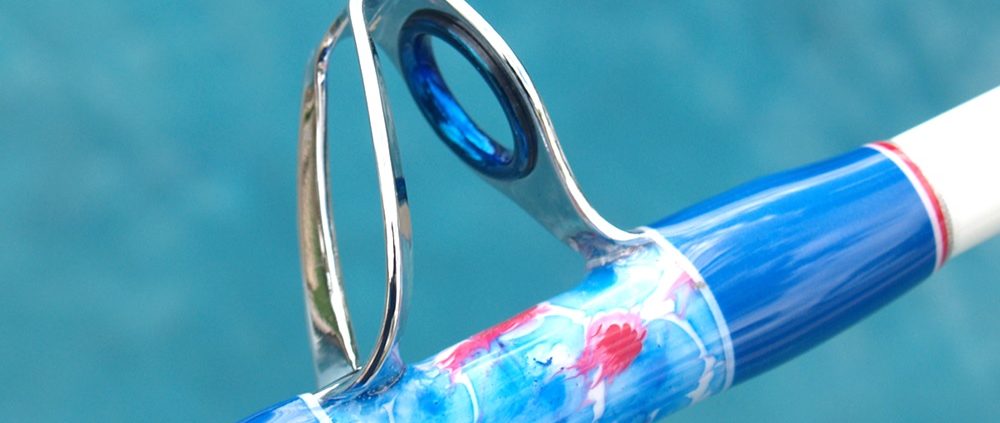 Custom rod marbling is one of the hottest new techniques rod builders are using to create stunning works of functional art.
The basic premise is to mix an ultra-concentrated marbling pigment with an epoxy finish – then swirl and drag the mixture in varying patterns on butt wraps and guide wraps.
Marbling is a fun, easy and unique way of customizing your fishing rods and can be learned by anyone in a few short minutes.
Equipment and Supplies Needed
Marbling Pigments – a wide variety of colors and options are available.  For the purposes of this article, we used the CRB Marbling Pigment Kit.
Epoxy – to mix with the color pigments.
Rod Dryer – keeps the rod turning while you work and for drying process.
Mixing Utensil – options include spatula, pick, or even a mixing stick (toothpick).
Mixing Dish/Plate – options include cups, dishes, plates or anything disposable.
Step by Step Marbling Instructions
Note:  The CRB Marbling Pigments are coloring agents designed for mixing with any two-part rod finish.
1.  Optional:  Mask off the area you wish to Marble with tape to provide clean line edges when completed.
2.  Then Paint that area with spray paint.  We have used a Rust-Oleum lacquer – White or other – two fine coats. (This dries in a few minutes).
3.  Once proper color is achieved, mix second component of rod finish per manufactures instructions.
4.  Mix Ten cc's of epoxy finish High build. (Mix for two minutes).
5.  Now coat the area you wish to marble with a thin coat of finish (while turning in a rod dryer).
6.  With what is left of the finish pour out nickel sized spots of finish on a mixing dish.
7.  Take the color pigments and mix into the nickel spots of finish.
8.  Take one color on a pick/toothpick and make a few color drops on the blank.
9.  With a new thin pick, drag through color drops.
10.  Now add another color and drop a small drop on the last drop.
11.  Again with the thin pick drag out this color.  Repeat as many times as you like.
12.  Turn in rod dryer until dry.
Note: You can use heat between coats to blend colors more.
Tips To Keep In Mind
1.  The CRB Marbling products can be used for tinting, marbling and any other coloring projects using Rod Finish.
2.  The opacity is based on concentration and can range from transparent to 100% opaque.
3.  The coloring agent is highly concentrated, so use small amounts when mixing.
About CRB Marbling Pigments
The CRB marbling pigments are now available in 9 highly concentrated pigments:
Black
Blue
Red
White
Yellow
Orange
Green
Light Blue
Violet
These 9 basic colors will let you mix & match to create virtually any color you can imagine.  You can create virtually any color by combining varying ratios of color pigments.
Color Wheel
To give you an idea for creating colors, here are some examples:
Green:  Equal parts Yellow & Blue
Purple:  Equal parts Blue & Red
Orange:  Equal parts Red & Yellow
Use White to lighten your mixture
Use Black to darken your mixture
Keep in mind the coloring agents are highly concentrated, so you only need to use small amounts when mixing.
For larger batches or multiple same color projects, mix coloring agent as directed, store mixed amount and then add second component of rod finish in the amount you need to finish projects on at a time.
Now that you know how easy it is – give marbling a try!
https://crbproducts.com/wp-content/uploads/2016/02/Applying-Marbling-Affects-To-Your-Fishing-Rod.jpg
523
1000
Custom Rod Builder
https://crbproducts.com/wp-content/uploads/2016/06/CRB-LOGO-209x70.jpg
Custom Rod Builder
2016-02-24 20:12:30
2016-06-26 23:58:21
Applying Marbling Effects To Your Fishing Rod